Regular price
259,00kr SEK
Regular price
Sale price
259,00kr SEK
Unit price
per
Sale
Sold out
Shipping

We offer free delivery on all orders of CleanSea bracelets worldwide.

Carbon Neutral Delivery Sweden: 2-5 business days.

Carbon Neutral International Delivery: 4-10 business days. 

Together with the organization Running Tide, we neutralize the carbon emissions from all our deliveries by growing kelp in the ocean. And by the way, our packaging is 100% plastic free and made with the lowest possible environmental footprint ;)

 About Running Tide.
Size guide

To get a CleanSea bracelet that fits you just right, not too tight and not too loose, we recommend you choose a size that is 1.5 - 3 cm longer than your wrist measurement. For example, if your wrist measurement is 17 cm, you should choose S (19 cm).

Wrist measurement: 


XS: 12 - 15 cm

S: 15 - 17,5 cm

M: 17,5 - 19,5

L: 19,5 - 21 cm

XL: 21 - 22,5 cm

Unsure what size is best for you? No problem, if the bracelet does not fit you can exchange it for free so you get a bracelet that fits you perfectly :)
Plastic pollution is one of our ocean's and marine lifes' greatest threats. That's why we're on a mission to remove this plastic from the ocean, and you can help us do it!

By purchasing a 2 kilo CleanSea bracelet, you will fund our removal of 2 more kilos (4 lbs) of trash from the ocean. Join the mission towards a clean ocean by pulling the next kilos today!
Removes 2 kilos (4 lbs) of trash from oceans and coastlines. 
Handcrafted using cotton cords.
Locking mechanism made from recycled wood.
Creates a healthy marine environment for both us and marine life to enjoy.
Represents your commitment towards a clean ocean!
"Would like to thank you so much for the beautiful bracelet I ordered to my colleague as a birthday gift! He was very happy both about how good it looked, and by the meaning behind. You are amazing!"
Share
View full details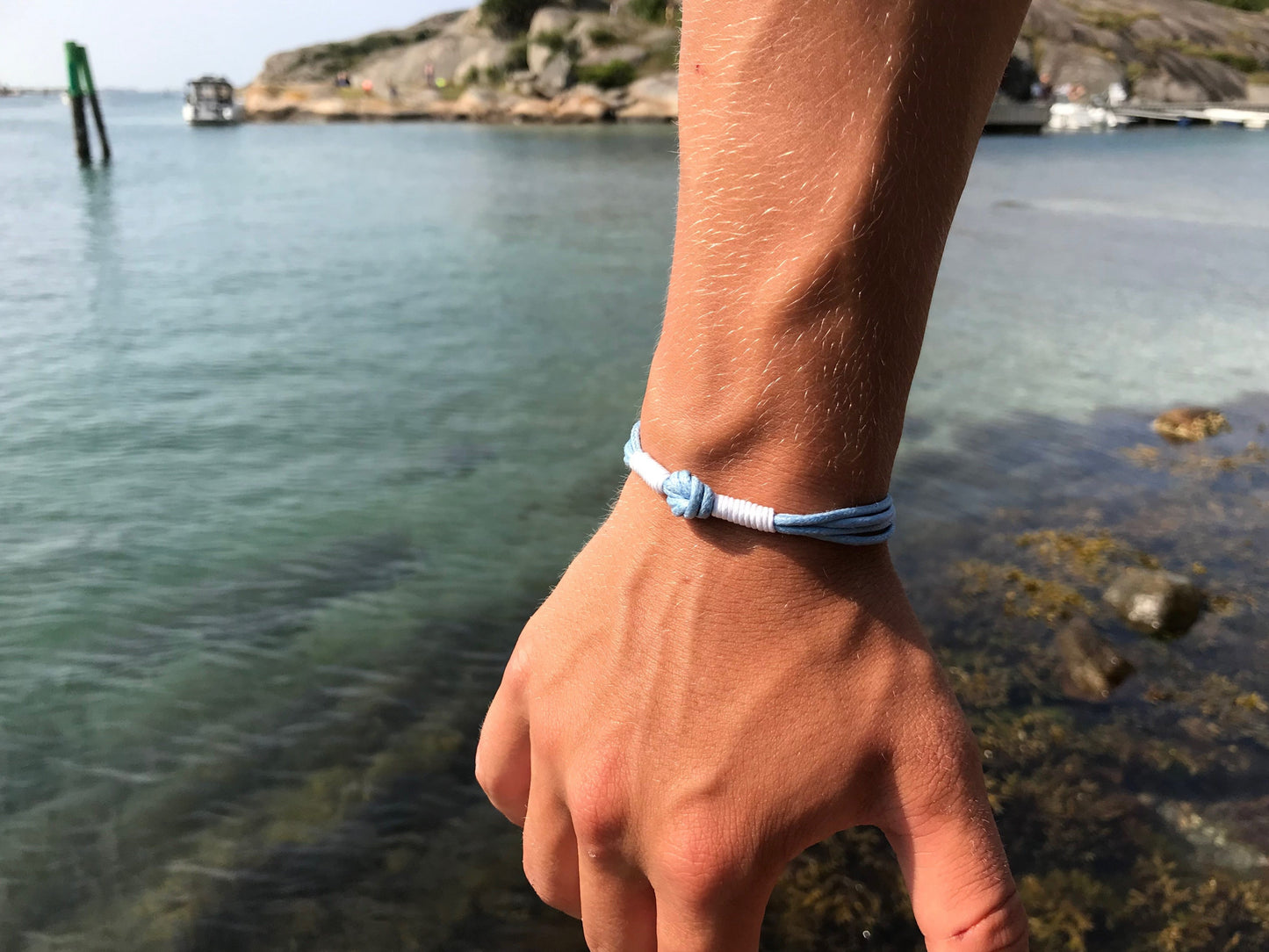 0.5 kilos can be enough to save a seal. 
Every piece of plastic we remove from the ocean can be the piece that saves a life. Pulling 0.1 kilos of ocean plastic could save a seabird. 0.5 kilos can be enough to save a seal. Every CleanSea bracelet pulls 1 kilo of plastic from the ocean. About the same as 100 plastic bottles, and definitely enough to make a big difference for marine life!
How they are made.
We want every CleanSea bracelet to be plastic free, biodegradeable and made from sustainably sourced materials. So we created a new cord specifically made for CleanSea bracelets, using GOTS-certified organic cotton. GOTS is a global standard to ensure that the material is made sustainably, organic and using the least chemicals. The certification includes the entire production process of the material - from growing the fibers, processing, to manufacturing.
The bracelets are handcrafted by an organization helping people in need of work opportunities in Turkey, the same place where the cord is made. So each bracelet not only helps shape a cleaner ocean, but helps people in need by giving new work opportunities as well!
Join the movement